A
braided hose
is a hose made of nylon or stainless steel wire. There are many different applications for these types of hoses. They can be used on anything from water to oil. You can buy products in various colors and materials. However, you need to make sure that the hose you purchase is suitable for your specific application.
Spiral hose and braided hose
If you need a hose with higher pressure capacity, spiral hose is your best choice. This hose has four or six layers of steel reinforcement wrapped tightly around the tube. Typically, spiral hose has a smaller diameter to allow for tighter bend radii. However, these hoses are a bit stiffer than braided hoses. They are also not as flexible, so routing is less flexible.
Braided hose is the most popular hose. They are available in a variety of sizes and pressure ratings. They are used in oil return lines, high pressure applications and hydraulic lifts. While they are able to withstand many different pressures, they are not as strong as spiral hoses.
The main cause of braided hose failure is crimped wires. Crimped wires are not strong enough to withstand the stress of high pulse loads. Therefore, the hose is more likely to break than a spiral hose.
Additionally, wear occurs at the intersection of braids. For spiral hoses, the resulting failures are even more serious. Unlike braided hoses, spiral hoses have an upper and lower gap to prevent wires from tangling. This is beneficial in freezing temperatures.
Wire braided hoses consist of single or two braids. Each layer is wrapped around the previous layer, creating a tighter wrap around the elastic tube. A thin layer of rubber adhesive separates adjacent layers. Use of brass plated wire in the reinforcement improves adhesion to elastomeric materials.
Hybrid hoses are constructed using steel wire reinforcement. It has the same flaws as all helixes. For example, the overlapping nature of the wires increases burst resistance, but can also cause tension imbalances in the hose.
These hoses are available in a variety of sizes, but the minimum bend radius is usually only one to two inches. These hoses are primarily used in ultra-high pressure applications. High pressure hoses are commonly used in heavy machinery and off-highway equipment.
Although there are a variety of hose options available, spiral hose is ideal for applications with high pressure demands. It can withstand pressures up to 6,500 psi.
Nylon Braided Hose
Nylon braided hose is the most commonly used hose for hydraulic lifts. It is flexible and has excellent abrasion resistance. This type of hose is an excellent choice for a variety of applications, from high pressure hydraulic lifts to oil return lines.
Braided hose comes in a variety of sizes and materials. They are available for low and medium voltage applications. A variety of options are available, including braided nylon, braided stainless steel, and synthetic rubber. These hoses can withstand temperatures ranging from -40 degrees Fahrenheit to 150 degrees Fahrenheit. Hoses must be compatible with the fluid being conveyed.
The best way to determine which hose is right for your application is to check the bend radius. Hoses should have a minimum bend radius of 5 inches. Hose is not safe to use if it has a bend radius of less than five inches. Additionally, hoses should be fitted with swivel hose ends.
The hose has a black synthetic rubber core that is resistant to most fluids. The hose also includes a criss-cross wire braid pattern that allows it to bend tightly. Likewise, the hose's outer shroud is made of braided nylon material to prevent the hose from contacting engine components.
Stainless steel braided hoses are also gaining popularity. These hoses can withstand high temperatures and are durable. Certain types can also be used to transport alcohol or diesel fuel. Stainless steel braided hose is durable. They are more expensive and less flexible than other hoses.
However, they are more durable and offer more resistance. Therefore, they are ideal for a variety of high temperature applications including oil and water circuits. Nylon braided hose, on the other hand, is more expensive and less flexible. Despite their higher cost, they are a popular choice. Plus, they're visually appealing.
Black nylon braided hose is a lightweight, high performance alternative to standard stainless steel braided hose. It is woven from high-quality nylon and can handle a variety of fuels, including gasoline, synthetic lubricants, and coolants.
Stainless steel braided metal hose
Stainless steel braided metal hose is a hose with an outer layer of stainless steel braid and an inner layer of corrugated hose. It is used in various plumbing applications. For example, it is commonly used in the petroleum industry to transport natural gas and oil. In addition, it is used in the petrochemical, textile electronics and aerospace industries.
Stainless steel braided metal hose is ideal for high temperature applications. It can handle temperatures from -30 degrees Celsius to 105 degrees Celsius. Braided hoses are also airtight which makes them ideal for use in the chemical industry. However, you need to choose the proper hose for your application. If your hose is not made of the proper material, it will not be able to withstand the high temperature media, reducing the life of the hose.
Another popular type of stainless steel hose is the thick wall corrugated stainless steel hose. Ideal for conveying corrosive liquids. This hose is often used as a vibration eliminator.
Corrugated metal hoses are ideal for conveying a wide variety of media, including corrosive gases and liquids. The braid provides a layer of reinforcement for added pressure resistance. According to user's requirements, the hose can be equipped with single or double braid.
Unlike rubber hoses which do not offer any flexibility, braided hoses offer excellent flexibility and kink resistance. They are less likely to kink and can withstand temperature extremes. Stainless steel braided hose is commonly used in the petrochemical and abrasive manufacturing industries.
Stainless steel hoses are available in single braid and double braid. A single-ply braid consists of a bundle of wires, while a double-ply braid has a set of wires called a carrier. Selecting the correct braid design is important in determining the pressure rating of the hose.
Braided hose is a kind of metal hose and has a wide range of uses. This type of hose is made of multiple layers of reinforcement. They come in different styles. Braided hose is usually made of stainless steel wire. These types of hoses are available in single braid and double braid. It is important to choose the right product for your application
One of the main reasons to use braided hoses is because they are flexible. In addition to their flexibility, they are also resistant to high pressure. The material used for the hose will determine the pressure it can handle. Stainless steel wire can provide the greatest resistance to compression. Plus, they're available in a variety of shapes and sizes.
Wire braids are used in a wide range of applications, including hydraulic hose. Therefore, it is considered the most common type of hose. However, it may be affected by halogen chemicals and other substances.
Stainless steel braided hose is suitable for high temperature and high pressure occasions. In addition, it provides external protection and abrasion resistance.
Despite its versatility, braided hose only offers a certain degree of bendability. For example, they can only bend to a certain radius. If this radius is too small, the hose will not bend properly. Also, if the radius is too large, the hose will wear out faster.
Braided hose comes in two styles: spiral and loop. The latter is used for bending and compression, while the former is used for axial bending. Depending on the pressure, braided hose can be single or double braided.
Another important factor is the angle of the braid. Generally 75-85 degrees angle. However, this angle varies depending on the application. Also, the number of wires per carrier is also important. Some manufacturers use multiple strands in the braid for added strength.
To reduce excessive movement, pads or sleeves are recommended. If the hose is used in high speed or impulse applications, rubber fittings may be more suitable.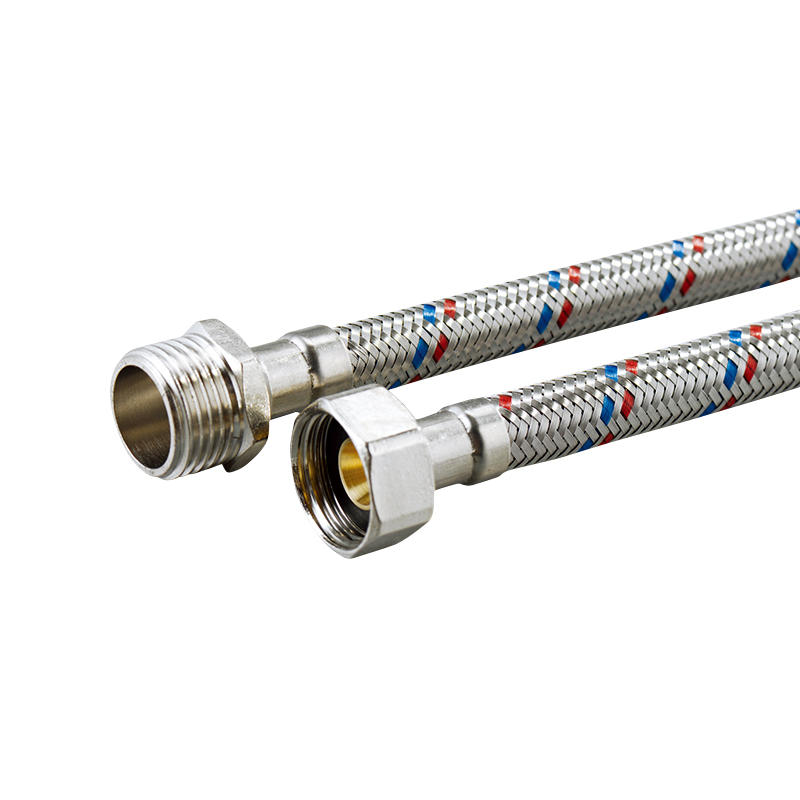 Material
Aluminium,Stainless steel 201,304
Length
According to customers' specific requirements
Nut material
brass/zinc/SS
Nut size
F1/2"xM3/8"      F3/4"xM3/4"
F1/2"xM1/2"      F1"xM1"
Packing
10pcs/plastic bag