Owning a
plastic kitchen faucet
is a very common trend among homeowners. While plastic faucets have many benefits, there are also some disadvantages. For example, lead and arsenic deposits in plastic faucets are a risk. It is recommended to choose a faucet with a durable material such as brass.
Whether you're in the market for a new kitchen faucet or looking to update an existing one, it pays to know which material is the best choice. Brass is considered the gold standard in the plumbing industry.
Brass is an alloy of copper and zinc known for its durability. Its warm colors complement many design themes. It is also very corrosion resistant. It also works well with natural stone.
Stainless steel is another popular material. Stainless steel is a metal that contains a high amount of chromium, which helps it resist corrosion. It is also a durable material that is easy to clean. However, it scratches easily. It also tends to have a shimmery blue tinge.
Stainless steel faucets are more expensive than other types of faucets, but they are durable. They have excellent corrosion resistance and are perfect for stainless steel sinks.
A satin/brushed bronze finish is also a good option. It has a warm golden glow that won't show watermarks easily.
Besides brass, other materials used to make kitchen faucets include plastic and metal. While they're not as durable as brass, they're inexpensive and come in a variety of finishes.
Whether you're concerned about the potential health risks of arsenic, lead, or other heavy metals in your drinking water, you need to understand your options. The Environmental Protection Agency sets maximum limits for lead in tap water. However, the EPA also allows states to set their own standards for pollutant levels.
EPA Updated Standards for Arsenic in Drinking Water. Its current highest level is 5 parts per billion. This means that water in excess of this amount should not be used for drinking or cooking.
While arsenic does cause health problems, there are many other pollutants that can cause harm to the human body.
The EPA has attempted to hold manufacturers accountable, but most legislation has been piecemeal. State governments have had to come up with more effective programs.
The Food and Drug Administration is currently enforcing federal bottled water regulations. These generally take precedence over state laws.
Whether you're replacing your faucet or faucet, there are some important things you need to know. These save you time, money and inconvenience.
Unlike standard faucets, cartridge valves are a self-contained, monolithic structure. It allows you to select the mix ratio using a lever mounted inside the inner housing. It includes its own seal for easy replacement.
A ceramic disc cartridge is a cartridge specially designed for mixing hot and cold water. Its ceramic discs fit snugly together and are coated with a durable water-based lubricant. It is easy to replace, has a long service life and requires no maintenance.
Most mixers don't use cylinders or ball valves, but cartridges. There are several types of ink cartridges. They vary in size and shape. Hot cartridges are designed to turn on the water in a counterclockwise direction, while cold cartridges turn on the water in a clockwise direction.
Ceramic elements come in two basic designs. These are quarter turn ceramic cartridges and 20 point ceramic cartridges. The former is smaller and has a thinner diameter.
The housing of the dual-function mixing cartridge is almost always made of plastic. It's not as durable as metal, but it's easier to replace.
Some older cartridges have issues regulating temperature. This can make opening and closing the handle difficult. To fix this, you may need to adjust the temperature limiter.
Whether you're looking for a replacement faucet or planning a new installation, you'll find a wide variety of faucets and models to choose from. When choosing a model, consider your specific needs. Also, consider the style and look of your kitchen. It's important to consider how your faucet will complement your decor.
If you have a smaller space or low cabinets, a straight-out faucet might be a good choice for you. On the other hand, if you have a large pot, the gooseneck type may be more suitable.
The gooseneck shape allows you to reach the spout high, making it easier to fill deep tanks. However, the nozzle will stick out at a higher angle than conventional nozzles, which will take up more space.
Generally, gooseneck faucets cost more than regular faucets. However, they are practical if you need to fill a large pot. They are also suitable for homes with more space above the sink.
The brushed nickel finish blends with most decor styles. It will add a sleek, modern look to any style of faucet. It is a medium gloss with a slight blue tinge.
A brass faucet is a durable, long-lasting product that will last for years. Stainless steel is another option, but it will cost more. If you're on a budget, you can also try zinc alloy. They are made of aluminum and magnesium and are usually chrome plated. They are not as strong and durable as steel, but they are less expensive.
Whether you're looking to buy a new faucet or are in the market for a replacement, the finish on your faucet plays an important role in its appearance and function. The most common finishing methods include electroplating, powder coating and physical vapor deposition. Each method has its own characteristics that can help you decide on the best finish for your kitchen.
The most popular faucet materials are brass, stainless steel, and zinc. The materials are durable and available in a variety of styles. Compared with other finishes, it is easy to clean and not easy to fade. Oil-rubbed bronze is also an attractive finish, giving the faucet a classic look.
Using the proper finish will ensure your faucet will last. If you're not sure which finish is best for you, it's best to test out different options to see which works best for you. You may find that a simple nickel finish works well for your kitchen, but you can get a more elegant look with a brushed nickel finish.
The most durable material for faucets is stainless steel. This is also the most common. Unlike other materials, it is not prone to rust, calcification in hard water, or corrosion in soft water. However, it needs a finish to keep it from tarnishing.
Whether you have metal or plastic faucets, hard water can leave mineral deposits on your faucets. These can be difficult to clean. It is important to use the correct cleaning solution for the job.
The best way to clean your faucet is to follow a few simple steps. Start by soaking a paper towel in white vinegar. Secure it around the spout or shower head with a rubber band. Let it soak for about an hour. Wipe with a clean cloth or sponge to remove any vinegar stains.
Next, wrap a small piece of lemon in a plastic bag. Secure it to the nozzle with another rubber band. After a few minutes, the lemon halves release citric acid, which dissolves the minerals.
You can also apply baking soda cream to areas of calcium buildup. Then, wash off the baking soda and calcium buildup with warm, soapy water. This can be done with a soft brush.
You can also use a special cleaner if you want your sink to shine. These are often sold in stores and may contain harmful fumes. You can also use the Magic Eraser to erase traces of calcium.
You may need to remove the aerator to get the job done. This will help you clean your frother properly.
Single handle plastic faucet abs kitchen basin faucet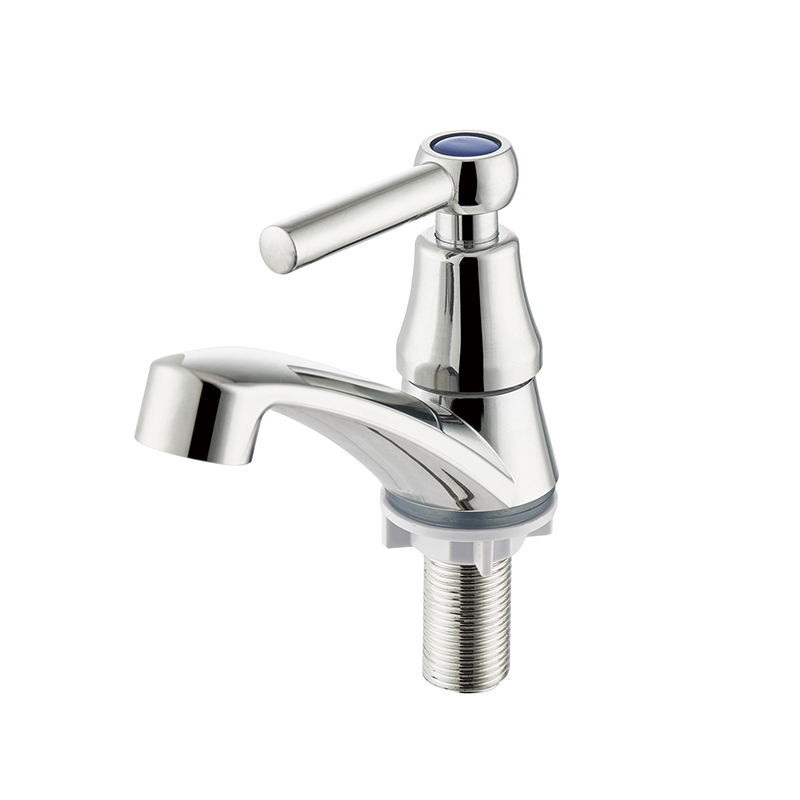 This is a single handle plastic faucet abs kitchen basin faucet. The matte surface will help the surface not easy to scratch and handicap material. This chrome faucet can be used for bathroom or kitchen use. We also provide after-sales service for our customer
This kitchen faucet is made of ABS material, which is better than those plastic faucets. And it's equipped with brass pressure regulator valve and ceramic cartridge. Water temperature can be adjusted with the help of a handle simply by turning it clockwise or counterclockwise
This faucet is easy for installation and material combination, it will be a great choice for your kitchen.